Brexit has complicated life for merchants in the European Union exporting to the U.K., which highlights new paperwork requirements, higher administrative costs, delivery delays and uncertainty about what the rules of the game are now that the U.K. is no longer a member of the single market since Jan. 1. And there is concern that the situation may get worse.
Given the last-minute trade agreement, it is not surprising that many companies were clearly not prepared for the change, even prompting some shipment companies to temporary suspend services between the U.K. and the EU because of inadequate paperwork provided by clients.
The German logistics group DB Schenker's halted shipments to the U.K. from the EU from Jan. 13 to Jan. 21 on the grounds that most orders it received did not respect the new post-Brexit customs rules. At the time, DB Schenker had indicated that only 10 percent of the orders had complete and correct paperwork.
Meanwhile, the parcel carrier DPD suspended its road service from the U.K. to the EU from the first week of January to Jan. 16. It noted that a fifth of cross-channel parcels had incomplete or incorrect paperwork and that there had been problems due to an upgrade to the government's Computerised Transit System (NCTS) which meant it could not validate all packages.
The delivery service company FedEx spent four years refining its Brexit plans, offering tutorials to help clients "adapt to the new reality."
"So far, our preparations are proving effective. Currently, only 0.5 percent of parcels due to leave the U.K. to the EU via FedEx's road network had missing customs paperwork," the company said in a statement. It added that shipping fees had increased to "reflect investments and the incremental cost of customs clearance".
Teething problems or deeper flaws?
The British Prime Minister Boris Johnson has dismissed the issues as "teething problems". But changes to value-added tax (VAT), new customs duties, higher freight charges and border checks have all contributed to a rise in delivery times and export disruption at a time when the Covid-19 pandemic has battered the global economy.
British tax officials estimate post-Brexit arrangements will add £7 billion (€7.9bn-$9.4bn) of bureaucracy to the cost of doing business with the EU.
Rather than dealing with customs and shipping documentation at the very confused start of the new trading relationship, Italian footwear group Falc was among companies that brought goods to the U.K. before Jan. 1. It shipped spring and summer 2021 footwear collections to British customers in December, said Salina Ferretti, the company's CEO, and is now working with its U.K. collaborators to get up to speed on requirements for exporting footwear to the country in order to deliver autumn and winter collections.
Some British businesses are thinking about setting up separate operations in the EU at a cost of local jobs, investing in bonded warehouses to avoid paying "double duty" on re-exporting goods to the 27-nation bloc or halting EU trade altogether. For larger firms this is a viable prospect, but smaller players on tight margins face more difficult decisions.
The British footwear company Clarks opened an EU distribution warehouse in the Netherlands, ahead of the spring/summer 2021 season to ensure "a first class service for customers in mainland Europe."
Meanwhile, the apparel and footwear retailer JD Sports Fashion is actively looking for a large logistics center within the EU. The firm last year opened a 7,400-square-meter warehouse in Belgium as a pre-Brexit trial to formulate "a longer-term, more permanent European supply chain strategy". Germany and the Netherlands are understood to be two possible locations, but no final decision has been made.
While the EU-U.K. trade deal provides for zero-tariffs for trade of their respective products, customs documentation is required and U.K. customs charges may apply when products or their components are sourced from outside the EU. For many EU firms it is still unclear whether their goods will be subject to duties.
Raising e-commerce costs
The problems with the NCTS and lack of awareness over regulatory requirements by consumers have heightened concerns that some firms will stop exports to the U.K. Scandinavian Outdoor, a Finnish provider of outdoor clothing, footwear and equipment, opted to temporarily halt selling to British customers as it figures out the new rules. "Due to Brexit, we have temporarily closed our store from U.K.-based customers," the company announced in a notice still posted on its website at the end of January. "Ordering will be possible as soon as our U.K. VAT-registration and the overall process of selling to the U.K. post-Brexit has been sorted out!"
As the U.K. is no longer part of the EU's customs union and single market, VAT is now collected by each country and paid upfront by the buyer. Online marketplaces such as Amazon collect the retailer's behalf and European goods can be sent as before.
But, if the EU seller opts not to pay the VAT, consumers who order items directly are hit with the bill. Matters become more complicated if the item is worth more than £135/€150 when it becomes liable for import duty. To compound matters, postage costs are added on to calculate duties. VAT is then based on the total amount, which could take it well beyond 20 percent of the original purchase price - and that's before the courier or postal service levies an extra handling fee.
All this must be paid before consumers can collect their goods and many are now refusing to pay, leaving merchants with the dilemma of re-importing the stock and facing the same charges themselves, or writing it off.
MasterCard warned that it will increase by at least 400 percent fees charged to EU merchants when British cardholders buy their goods online, a move it said is being made due to Brexit and is another factor that could lead to higher prices for consumers should firms decide to pass on the higher cost of e-commerce transactions.
The EU in 2015 capped fees for the use of payment cards issued in the European Economic Area (EEA) to 0.3 percent for credit cards and 0.2 percent for debit cards. MasterCard has told retailers the rates will increase to 1.5 percent and 1.15 percent, respectively, as of Oct. 15, in line with the ceiling the EU set on the use of non-EEA cards in 2019.
Rules of origin eased until 2022 for U.K. companies
In order to mitigate the impact of some of the changes on businesses, British companies exporting goods to the EU will not have to prove goods are eligible for zero-tariff access under the complex "rules of origin" until 2022.
To qualify, firms must demonstrate goods "originate" in the EU or the U.K., with approximately 50 percent British content for most products. For example, clothing from Bangladesh is tariff-free under the "Global System of Preferences." However, if re-exported without further processing it attracts duties.
Goods that fail the rules of origin threshold could be taxed twice if brought into the U.K. and then moved on to the EU.
William Bain, trade adviser for the British Retail Consortium, said 50 of his group's members faced potential tariffs for re-exporting. "We appreciate the rules of origin in the (trade agreement) were designed to be facilitative on trade in goods, but we need a solution which genuinely reflects the needs of U.K.-EU supply and distribution chains for goods," he commented.
A delegation of British business lobby groups met with Cabinet Office Minister Michael Gove in late January to express concerns over "sizeable obstacles to moving goods through the Dover-Calais route and the shortage of informed advice from both government and specialist advisors." They also warned problems could get worse as volumes increased once stockpiled supplies were exhausted and when grace periods expired.
"Simplified customs and administrative procedures are urgently needed at U.K./EU borders to reduce the negative economic impact of Brexit," said Carmen Arias, secretary general of the European Footwear Confederation (CEC). She added that estimating the real impact of Brexit will be possible only sometime after July 1, when full border controls go into effect for EU goods imported into the U.K.
In the initial phase, most goods being imported into the U.K. will be subject only to basic customs procedures while companies will have up to six months to complete customs declarations and to pay tariffs, should they apply. But, checks on goods imported into the EU from the U.K. are already underway.
Gauging the impact of Brexit on EU trade is also complicated by the ongoing Covid-19 pandemic, which has led to lockdowns and store closures on both sides of the Channel. "It's not clear where Covid ends and Brexit begins," said Ferretti of Falc, "but I think that in a matter of months, people will get organized (to handle Brexit-related requirements), Covid will pass and people will resume buying" shoes.
Photo: © Habib Ayoade on Unsplash
Interview with Carmen Arias, secretary general of the European Footwear Confederation (CEC)
How important is the UK market for EU footwear companies? Generally speaking, what has been the impact of Brexit on trade with UK so far?
The EU-U.K. footwear trade relations are of paramount importance to both parties. In 2019, 35 percent (in quantity) of extra EU27 extra footwear exports were directed to the U.K. Subsequently, the industry is pleased with an agreement stipulating zero tariffs and zero quotas access to the U.K. market. Even though the U.K. left the EU officially at the beginning of 2020, the transition period when the U.K. was still following EU regulations occurred during a peculiar and challenging time caused by Covid-19 pandemic, which makes it difficult to quantify the impact of Brexit on EU-U.K. flows. Understandably, the U.K. leaving the customs union means that EU companies are subject to border controls as of 1st of January 2021 and currently have to fill in declaration forms, which imply administrative costs, especially problematic for smaller footwear companies trying to overcome the effects of the pandemic. The real impact will be better observed after the 1st of July 2021, when full border controls will be effective. The EU, on the other hand, has already started to check documents and to carry out checks on goods.
What have been the major issues/problems and impact for EU footwear companies associated with Brexit for B2B trade?
The 1st of January 2021 came with changes on both sides of the channel. Companies need time to navigate the new customs procedures, to implement them and to adapt to a new trading relationship. Whereas EU companies welcome the EU-U.K. Trade and Cooperation Agreement (TCA), simplified customs and administrative procedures are urgently needed at U.K./EU borders to reduce the negative economic impact of Brexit. In addition to the registration processes and compliance with the rules of origin that guarantee tariff free trade, there are several other aspects that footwear companies have to consider, such as safety checks, labelling accuracy, role and responsibility in REACH requirements, etc.
What have been the major issues/problems and impact for EU companies associated with Brexit for e-commerce?
To begin with, since the beginning of this year, EU e-commerce directive no longer applies to the U.K., and companies have to comply with new rules. As we know, the U.K. is a key player in the world of online sales and a leader in Europe. For e-commerce sellers, Brexit brought about more administrative burdens and costs, a real challenge for smaller e-commerce businesses. Coupled with the impact of Covid-19, EU e-commerce businesses and shipping companies are facing difficulties in adjusting to new rules and border checks. Longer delivery times are the first notable consequence, which might discourage U.K. customers to purchase their shoes online from the EU and vice-versa. Furthermore, companies had to update their customer terms, shipping, returns and exchanges policies, which might have caused dissatisfaction for their loyal customers, who were used to free returns procedures and other benefits.
What have been/are expected to be the major strategies of European footwear companies to deal with this new market landscape? (including abandoning the market if not feasible anymore). Or has there largely been inaction up until now?
It is still early in the process for discussing radical measures such as abandoning the market. We cannot forget that we are living an unrealistic period of low consumption, and all options for increasing sales are considered. Moreover, EU-U.K. footwear trade relations are very strong and the industry on both sides of the channel is determined to make it work, including with regards to the supply chain as many U.K. brands manufacture their footwear in countries of the European Union. From our perspective, footwear trade flows will continue despite the current challenges. As is the case with other third countries, relationships succeed with the help of trade agreements and we have a very good basis in this regard. We trust that British consumers will continue to purchase and to appreciate European shoes and their uniqueness.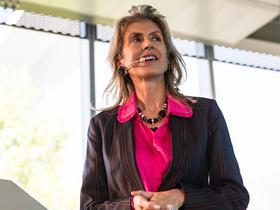 Loake steps into post-Brexit world with "healthy, wary" outlook
The British shoe brand Loake is maintaining a "healthy, wary attitude" to its post-Brexit trade prospects, according to its export manager, Richard Utting. But, he did admit that new Covid-related lockdowns and extra customs charges will result in higher prices.
With a no-deal Brexit, a very real prospect heading towards the Dec. 31 deadline of the U.K. exit of the single market, Utting said Loake had done "quite a lot of planning" up to Dec. 23 when the U.K.-EU trade deal was finally approved.
Loake capitalized on long-standing relationships with its suppliers, and also stockpiled before Brexit "to prepare us in case there were any problems", he told Shoe Intelligence.
Utting said the firm sent "test dispatches" to key countries such as Sweden to research how it would be affected by the new rules which took effect on Jan. 1. "We actually found that there was about 24 hours additional time in dispatching, but not really a massive amount of additional paperwork," he said. "I guess we are lucky because we already have quite a large export business outside of Europe, so things like (customs identification) EORI numbers and that sort of thing we had already got prepared."
Utting noted that apart from tweaking EU export invoices, there were some "teething problems with a couple of countries, Italy in particular, where we haven't got the bookwork quite right", meaning retailers were forced to pay around €20 for delivery from customs to their stores, "but we have got that sorted now".
"So we are still retaining a sort of healthy, wary attitude, because we are finding individual countries within Europe are asking for different things."
So far, Loake has delivered goods to about eight countries using distributors that will then move them on within the 27-member bloc.
"For example we have a distributor based in Romania and he looks after the Balkans, one customer in the Baltics (and) one customer in Scandinavia, so that makes it a little bit easier," Utting said. He added that a combination of new customs charges and the pandemic's impact would result in a "lift" in prices "especially in Europe … we are working on that at the moment and we have told all our customers that it is coming but we need to get the details absolutely right".
A month into the new trading arrangements, Utting reflects on the uncertainty the drawn-out Brexit talks and new lockdowns are creating.
"I have never had to write a sales forecast for a coming year with so little to go on. It was really an act of guesswork because there were so many different scenarios that could play out," he said.
"The initial one that I wrote for the entire business was a return in the spring, albeit at a low level, and now in terms of the U.K. there will be absolutely no sales at least for the first quarter" largely because of the pandemic.
Utting added that Loake was reporting "good sales increases" from the Far East year-on-year "so that's a very encouraging sign."
"Certainly China is an excellent territory for us at the moment, Russia is starting to come back now, we're starting to see Scandinavia coming back. It's just within the UK that we need to weather the storm."