Hardly a day goes by without a footwear company or a component supplier announcing a more sustainable product, a recycling program or an environmentally-friendly scheme. Such a flurry of initiatives is motivated by growing consumer and regulatory pressure as well as greater corporate consciousness. Nevertheless, the shift to more sustainable manufacturing can be an issue because of the difficulties in setting up a reliable and economically-viable supply chain. Using new materials can also be challenging in the conception and design of shoes.
In this article, we talk about:
The sustainable footwear industry is set to grow 5.8 percent to 2027
The trend is driven largely by young consumers who are increasingly attracted by sustainability initiatives
Footwear and sportswear companies are reducing their carbon footprint partly by using sustainable materials and creating more sustainable supply chains
Efforts to manufacture shoes more sustainably is changing design
The shoe industry generates 700 million metric tons of CO2 every year, one fifth of the total emissions produced by the apparel industry overall, while many of the 300 million pairs of footwear disposed of each year require 30-40 years to decompose. With footwear consumption projected to rise by 63 percent by 2030, pressure on footwear companies to address its high carbon footprint is growing.
Many companies, regardless of their size and background, are taking action. Nike, Adidas and Puma have all set themselves ambitious sustainability targets, and startups specializing in sustainable sneakers like Allbirds and Cariuma are becoming increasingly mainstream. Luxury shoe manufacturers, too, are adopting sustainable materials.
That has allowed them to tap into a growing market. According to a Grand View Research report, the sustainable footwear industry was valued at $7.5 billion in 2019 and is set to average 5.8 percent annual growth to 2027. Recycled materials in footwear leaped 70 percent year-on-year in 2019, according to another report.
Yet adopting sustainable practices presents companies with challenges. What are those challenges, and how are companies overcoming them?
A booming industry
The rise in sustainable footwear is being fueled by growing awareness of sustainability issues among consumers, a growth in the number of young people worldwide, and an increase in their purchasing power, according to Grand View. The Asia Pacific region is currently the largest market for sustainable footwear, and the European market is expected to witness significant growth.
Companies are ramping up production of sustainable footwear. Adidas and Parley for the Oceans, an environmental network, have produced a line of sneakers made from recyclable ocean plastic since 2015. Pairage was 1 million in 2017, rising to 15 million by 2020.
Mainstream companies are offering an ever greater range of sustainable shoes. Adidas's Futurecraft Loop Sneaker line has been available since April 2019 and is made entirely from recycled materials. Launched in February 2021, Nike's Cosmic Unity model, the company's first sustainable model of basketball sneakers, is made from 25 percent sustainable materials.
Meanwhile, such companies are striving to reduce their carbon footprint more broadly. Nike has pledged to switch to 100 percent renewable energy by 2025, while Adidas has committed to using 100 percent recycled polyester by 2024 and to reducing greenhouse gas emissions by 30 percent compared with 2017. Salomon says that it will recycle 70 percent of the waste it produces by 2025. By that date, it will also make the environmental performance of every Salomon product visible to the consumer.
Sustainable startups have recorded impressive growth. Rothy's, which makes shoes from 100 percent recycled water bottles and post-consumer recycled materials, was launched in 2012 and is now worth $700 million. Mainstream brands and sustainability specialists are joining forces. In 2020, Allbirds and Adidas created a shoe with a carbon footprint of 2 kilograms compared to the average 12.5kg of other sneakers on the market.
Zero-carbon, circular shoes
From vegan materials to vegetable-tanned leather, there are seemingly limitless options for companies wishing to use sustainable materials.
Many of those on offer are recycled. Salomon's Crossamphibian Swift 2 shoes use the equivalent of 1.75 plastic bottles, two ears of corn and discarded coffee grounds.
Some materials help make production energy-efficient and less polluting. Cariuma, a Brazilian sustainable footwear specialist, makes shoes with bamboo, which is quick and energy-efficient to grow, requires no fertilizer and self-regenerates from its own roots, meaning it does not need to be replanted.
Moreover, shoes made from biodegradable materials can be disposed of with little harm to the environment. One Moment asks users of its O1M shoes, which are made of 100 percent biodegradable plastics, to shred them before dumping, after which they require six months to decompose. Sessile invites its customers to return their sneakers to the company after use; depending on their condition, the shoes can either be disassembled, disinfected and then renovated for resale or recycled.
The carbon impact of these circular shoes is three times less than many similar shoes, Sessile claims.
Making global supply chains sustainable
Some companies have kept CO2 emissions down by sourcing and producing locally. Sessile produces its shoes at its La Manufacture 49 plant in Montjean-sur-Loire, and sources most materials from France or neighboring countries such as Italy and Portugal.
Cairuma's supply chain stretches, in contrast, stretches from Brazil, where the bamboo is sourced, to China, where the shoes are produced. Even so, the company claims its shipping is carbon neutral, achieved through a partnership with Native Energy on conservation and preservation biodiversity initiatives in the Amazon.
Overhauling packaging has led to further carbon savings. Nike has pledged to reduce the size of its cardboard boxes, reducing the need for tissue paper and excess wrapping to fill out the box. Moreover, Nike will completely eradicate single-use plastic bags in all its stores by the end of 2021.
In September 2020, Timberland announced ambitious sustainability goals that include planting 50 million trees around the world over the next five years and create a net positive impact on the environment by 2030.
To reach product circularity, Timberland said that products will be made using materials that would have otherwise gone to waste. Products will also be designed to be recyclable at their "end of life," so they can be disassembled and made into something new. By working with pioneering regenerative farmers, Timberland is also hoping to pilot new regenerative cotton, rubber, wool and sugarcane supply chains. The brand is also working to build a regenerative leather supply chain in Australia, Brazil and the U.S.
Making sustainable materials pay
Yet sustainable materials are often costly. Cariuma's premium materials cost on average 35 percent more than the standard alternatives, the company claims. In an interview with Shoe Intelligence, Diana Yanes, a Milan-based sustainability consultant working mainly with small luxury manufacturers, said some companies opt to stitch their soles rather than use unsustainable adhesives. Stitching, she said, costs €120 per pair compared with €20 for the adhesive method.
Sustainable materials are often difficult to source. In January, Mirco Scoccia, a New York-based designer, launched 02 Monde – a brand centered on sustainable production and Italian craftsmanship. After searching long and hard for the right materials, inspiration came from the furniture and car industries.
Accordingly, some, especially smaller, manufacturers have been reluctant to switch to sustainable materials. During the interview, Yanes said manufacturers often understand the importance of adopting greener practices to attract clients, but find the price tag difficult to stomach and instinctively resist abandoning traditional practices.
However, the obstacles that manufacturers face are receding. Sven Segal, whose Po-Zu brand produces solvent-free shoes from 100 per cent bio-materials such as organic cotton and natural rubber, said that back in 2006, when he founded the company, sourcing the right materials was "like finding a needle in a haystack." Since then, sustainable materials have become more readily available, as the trend has taken off.
Large industrial groups and component suppliers are also offering more environmentally-friendly solutions to shoe makers. Carbon capture and sequestration is seen a promising means to decarbonize the global economy. The German chemical group Covestro is using CO2, along with recycled and more sustainable materials, to produce elegant, casual and sports shoes with its footwear partners.
The campaign is part of the group's efforts to expand the use of cardyon, a raw material for the production of polyurethanes made with up to 20 percent of carbon dioxide (CO2). CO2 is already used in several applications such as the manufacturing of mattresses, sports flooring and car parts.
In footwear, CO2-based products for shoe components are already on the market thanks to a polyurethane flexible foam for the inner padding of running, trekking and ski boots. In this field, Covestro is cooperating with the Slovenian footwear supplier Plama-pur.
The German group has also partnered with the Brazilian footwear manufacturer Calçados Beira Rio to develop concept women's shoes with soft foam lining using CO2, and with the Chinese shoe designer Axis Liu to produce a sneaker with film made from CO2-based thermoplastic polyurethane.
Texon, the producer of materials for the footwear industry, also launched a new insole technology that is based on 85 percent recycled polyester (rPET) and is 100 percent recyclable. Meanwhile, W. L. Gore Associates and Bionic Yarn, a material engineering company from New York, have announced a collaboration to drive the development of a high-performance textile made from traceable, recycled plastic.
Therefore, the availability of more sustainable footwear is increasing.
Steve Madden has launched Cool Planet by Steve Madden, which aims to offer affordable eco-friendly footwear targeted at younger consumers. The Cool Planet's women's collection kicks off with 19 styles retailing from $50 to $80 a pair.
Cool Planet also serves as an innovation laboratory for the company to improve material sourcing and manufacturing across its portfolio as it seeks to increase the use of recycled and renewable materials in products. For the time being, the brand has focused on less expensive materials, such as recycled textiles and rubber, but is testing costlier ones. Steve Madden has also entered a partnership with One Tree Planted, a non-profit organization involved in reforestation worldwide. For every pair purchased, Cool Planet will contribute to planting a tree. Offering to offset a product's carbon footprint through reforestation is another solution often employed by brands seeking to green their image.
Impact on design
Sustainable materials sometimes present design challenges. Cariuma uses bamboo for the yarn in its IBI sneakers, but initially struggled to make the material resistant enough while maintaining its flexibility and lightness. According to Fernando Porto, the company's co-founder, it took Cariuma a year to find the right solution. The company ultimately settled on a blend including recycled plastic.
Yet design can be a sustainability solution in itself. The upper parts of Cariuma's IBI shoes are made from three pieces and have only two stitching points, requiring minimal cutting, labour and energy to produce, thus reducing CO2 emissions.
Sustainable materials are often highly comfortable, too. Po-Zu's trademark "Foot Mattress" base is formed from pliable coconut fibers, which gradually mould to the shape of the wearer's foot. Cariuma says its bamboo-plastic blend creates an all-day-hug for feet, while Allbirds' Wool Runners, which are made using merino wool and the brand claims are the world's most comfortable shoes, have received favorable reviews.
If the shoe industry must become more sustainable, it is not short of ways to do so.
Sustainable shoes cost 25% more to manufacture - Interview
Diana Yanes is a Milan-based footwear consultant with over ten years' experience. One of her goals is to help small luxury shoe producers, especially in Italy, become more sustainable.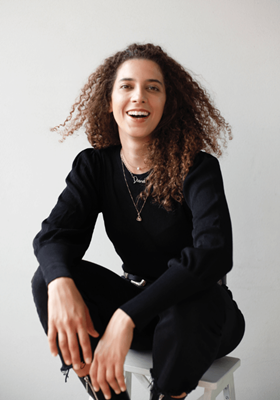 Yanes – who has worked with international brands including Ocean Pacific, Bloch Fashion Shoes, and Anonymous Copenhagen – says small producers can become more sustainable by adopting new materials, and modifying their design and production processes.
But, while she is enthusiastic about recent attempts by global companies across many industries to become more sustainable ("Smarties will not use any plastic in its packaging from April, and I think that's just great!" she said), encouraging luxury shoemakers in Italy to do the same is not easy.
"There are currently very few producers in Italy making sustainable shoes," she said. "These manufacturers are tied to traditional ways of doing things. Getting them to adopt new approaches is quite a challenge."
Yet she is slowly convincing producers of the merits of sustainability. "Before, they really didn't get it, and I had to explain everything with models, plans and lots of patience. Now, companies are beginning to understand they need to make changes," she said.
The main obstacle to winning them over is the price tag. "Eco-friendly materials are currently expensive," Yanes said. "If you make sustainable shoes you are looking at reduced margins and will have to sell more."
A normal insole, for example, costs manufacturers 80 euro cents, whereas a biodegradable one costs €1.50, Yanes said. Moreover, soles attached with natural glue – which is less durable than traditional, more adhesive solvent – need to be stitched. Stitching by hand rather than using traditional glue costs producers an extra €20 per pair, Yanes said.
"Overall, you need to spend an additional 25 per cent or so to create a pair of sustainable shoes," she added.
Technology also requires big investment. Industrial sewing machines for stitching soles attached with natural glue typically cost $2,000. CAD design programs, which allow companies to print 3D design models, thus reducing wastage of materials, typically cost around $6,000.
Yet investment now will bring future returns, because the sustainable footwear market is taking off, Yanes said. Young people are driving the trend. "More than half of the global population is already made up of Gen-Z people and Millennials, and this group is growing fast," Yanes said.
As more and more companies seek to capitalize, new and interesting ventures are being born. Yanes states she is working with a producer in the Italian Marche region, which makes shoes from recycled leather scraps that contain no added chemicals. She has another contract on the horizon with an Italian company that makes shoes from plastic from the ocean.
"By making even small changes now, producers can make big gains further down the line," Yanes concludes.
Shoes go tutti frutti
Footwear manufacturers are rivaling in ingenuity in the use of alternative materials to produce sustainable shoes. Here are some examples of original solutions employed.
Some producers, especially those specializing in vegan shoes, are phasing out leather and using plant-based materials made by suppliers who offer leather alternatives. Some of these are made from corn derivatives, mushrooms, cork, wood and even bacteria. Freska, one certified vegan lining, is made from a mixture of corn and cereal, while Bioveg, another leather substitute, is from vegetable oil and recycled polyester reclaimed from water bottles. Pinatex produces material from pineapple and Vitigna, a leather-like material derived from grape skins. AlgiKnit converts natural materials into fiber used in shoemaking, while Evrnu reduces fibers to their basic chemical components and rebuilds them into more eco-friendly versions, so they can be more easily recycled after use.
Brands are increasingly drawn to sustainable materials. Saola shoes are made from recycled algae foam, among other things. The Brazilian brand Cariuma makes shoes from bamboo, natural rubber, organic cotton, and sugarcane. Virón makes some of its shoes from apple peel.
Interested in reading more about sustainability? Here are our recommendations: