In 2020, the year of the Black Lives Matter (BLM) protests, diversity and inclusion burst onto the public agenda. The theme has emerged on companies' radars, too. Diversity and inclusion are increasingly criteria by which companies are evaluated. And, while some footwear and sportswear brands have come under fire for poor diversity records, many have acted swiftly to make improvements.
Diverse workforces are characterised by their heterogeneity in terms of age, gender, language, cultural backgrounds and race – and research suggests they are more effective. A 2018 report from BCG, which assessed 1,700 companies across industries in eight countries, found that diverse workforces produce 19 percent higher revenues. They are also believed to be more innovative, more engaged and have access to a broader range of perspectives, thus improving problem solving and helping engage wider customer bases.
Companies across all industries, especially in North America, have recently made bold pledges to diversify their workforces. On Dec. 10, 30 top American firms, including Nike, launched OneTen: a startup seeking to create one million jobs for Black Americans over the next ten years. On the same date, the Canadian government announced the "50-30 Challenge," a scheme connecting diversity organizations with an initial 470 businesses in efforts to reach 50 percent gender parity and 30 percent representation of under-represented groups. Canada's Ministry for Innovation, Science and Industry has invested C$33 million (€21.0m-$25.6m) in the project.
Some footwear and sportswear brands have been praised for their diversity standards. The second Financial Times Diversity Leaders ranking surveyed 100,000 workers from 15,000 European companies; the 850 highest scoring companies include 39 clothing and accessories or sports equipment brands (see ranking below).
But brands have been characterized as lacking diversity overall. Sourcing Journal's 2020 Diversity List, a ranking based on 100 top U.S. brands and fashion firms which was released in June, shows the industry has what it calls a "diversity problem," with management teams in particular lacking diversity. While 57 percent of Nike's staff are non-white, only three people on its 13-strong board (23 percent) are of color, according to Sourcing Journal. Foot Locker has just three people of color on its 12-person board (25 percent), while Timberland has one person of color on its board of 12 (8 percent). By comparison, 39.9 percent of American adults identify as from an ethnic minority, according to the U.S. Census Bureau.
A number of footwear brands have recently been criticized by their employees for failing to stamp out discrimination in the workplace, even while devising anti-racism marketing campaigns in the wake of BLM.
But diversity organisations are attempting to address footwear and sportswear's race imbalance. In 2010, D'Wayne Edwards, a designer for ten years of Nike's iconic Air Jordan series, founded Pensole, an academy specifically for black shoe designers. The organization has placed 475 former black graduates at brands such as Nike, Under Armour and Adidas, Pensole claims.
Companies, too, are seeking to boost their intake of black employees. In August, Foot Locker opened a sprawling store in Compton in Los Angeles, where 75 percent of the population belong to an ethnic minority, saying it intends to elevate an "underserved community." The store hosts a Wifi-enabled seating area for artist talks and study spaces for local students. Crucially, it has pledged to employ associates living within a five-mile radius.
Some brands have made changes they hope will enable diversification in the future. Nike appointed Felicia Mayo as chief talent, diversity and culture officer in August, Caleres named Amy Hunter as vice president of diversity, equality and inclusion in October, and Prada appointed Malika Savell as chief diversity, equity and inclusion officer in the same month. The new intake will be responsible for devising long-term diversification and inclusion strategies.
Brands have allocated considerable resources to the diversification cause. In February 2019, Prada created the Diversity Inclusion Advisory Council, whose prominent academics and experts will work with universities and organisations on developing internship and apprenticeship schemes in diverse communities. In June this year, Foot Locker committed to spending $200 million over the next five years to enhance the lives of its black employees and customers.
Smaller companies with more limited budgets can also diversify their workforce, according to Dietmar Knoess, the global director of people & organization at Puma. "Be flexible with working hours. Allow people to work from home. That could do so much to help parents," he said. "But whatever you do, do it from the heart." (See Knoess' full interview below).
Interview: Diversity broadens the talent pool - Dietmar Knoess, Puma
In November, the Financial Times released a list of the 850 highest-achieving companies in its second annual Diversity Leaders ranking. Puma came 104th, the top spot awarded to any specialist sportswear company. What is the company doing right? "We work from a playbook, and the main rule is that everyone is invited to play," said Dietmar Knoess, global director of people & organization at Puma, in an interview for EDM Publications, which publishes Sporting Goods Intelligence, Outdoor Industry Compass, Shoe Intelligence and Eyewear Intelligence. "We don't care who you are, where you're from or what your sexual orientation is."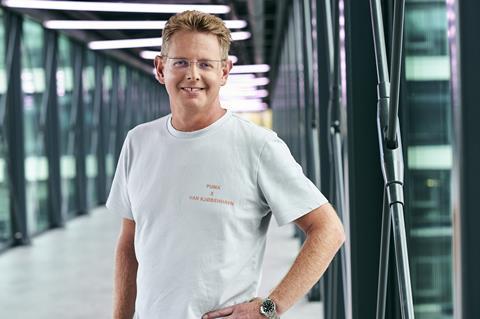 The FT ranking was compiled from surveys conducted by Statista of 100,000 employees working for 15,000 companies headquartered in Europe. Workers were asked to rate their employers' efforts to promote diversity including gender balance, openness to all forms of sexual orientation, race and ethnicity, disability and age. Responses from typically under-represented groups, such as women, workers over 50 and the ethnically diverse, were given more weight.
It is little surprise that Puma did well. Currently half of its global staff are women; while in 2011 only 31 percent of managers across the company were female, now 43 percent of them are. At Puma's headquarters in the Bavarian town of Herzogenaurach, 1,100 employees hail from 70 nations and 35 percent of staff at head office are non-Germans, so the lingua franca is English.
Puma has outlined its commitment to ensuring a fair work environment for all, irrespective of gender, nationality, ethnicity, religion, disability, age or sexual orientation, in its Code of Ethics (2005) and Diversity Charter (2010). "Diversity and Equality are the most important ingredients for Puma's growth," according to the company's website. Puma is a certified Top Employer Europe 2020, and was named Focus Top National Employer 2019 and Glassdoor 2020 Best Arbeitgeber (best employer).
Why is the company serious about diversity and inclusion? "Firstly, by broadening the talent pool you can pick up more talented individuals," said Knoess. "Secondly, employees work more productively when they are in an open and inclusive environment. Thirdly, diverse workforces are better placed to create products that meet the requirements of consumers around the world."
Equally importantly, Puma is driven by a desire to help forge a more just and equal society. "Everyone must play a part in creating a better future for us all," Knoess said. "Take schools, for example. Children from ethnic minority backgrounds often do less well. We can help address that, by ensuring the most talented people from those communities can join the company through scholarships and internships."
Strategies, quotas and statistics are all necessary for creating diverse workforces. But authenticity is more important. "In the end, it's all about perception rather than statistics. Stats don't tell you much. You could have loads of women in top roles but treat women badly. Ultimately, senior management need to believe in what they say, because change comes from the top. That's where most companies are failing. If you don't start with senior management, you won't change the culture."
"You need to live by example, and show that every individual counts," Knoess continued. "If you live the culture, then people will follow you."
Managers should do more to trumpet their values and successes, he said. Following the rise of the human rights movement Black Lives Matter, Puma surveyed its employees in Germany and the U.S. to determine whether they found the company a safe place to work. "Many people said we should speak more about how wonderful our culture is. They are right. By sharing our ethos, we can make people feel even safer, and encourage other companies to do more. This is something we can do better as an organization."
While a strong diversity culture comes from the top, it is important to build from the bottom up, too. "If we bring in the right minority people now and train them up, they will be ready for managerial roles in the future. That will also allow us to promote from within rather than importing personnel, which helps keep the company's identity and values robust," Knoess said.
Not that recruiting diverse candidates is always easy. While Puma is "instinctively attracted to young minority candidates," excluding white or older candidates could be seen as "discriminatory," Knoess said. One solution is to ensure headhunters bring enough of the right applicants into the interview room. "If you have three candidates with a good profile and one is an ethnic minority person, often it is natural for us to choose the minority candidate. If I have a Chinese candidate who can speak Chinese, that is an asset for us."
But running a multicultural workforce is complicated, and requires managers to engage in constant debate, Knoess said. "Should we provide halal food in the canteen? Should we celebrate Christmas? If so, should we also celebrate Hanukkah? Once, we discussed whether we should have a prayer room. In the end, we set one up, but we called it the 'room of silence,' because we felt that was more neutral. We grapple with those kinds of questions all the time," Knoess said.
"In the end it's Puma's values which bring us all together," he added.
Asked how smaller companies can improve their diversity credentials, Knoess said, "Recognize that the world is different, and respond to the social needs of your territory. There is no blueprint, so always be aware of your parameters. Promoting LGBTQ rights in Russia might get you arrested, but it could be a good idea elsewhere. In Italy, promoting more women is probably a priority, so Italian companies could start there."
Puma has a good track record of helping women and parents. The company's headquarters hosts a crèche, a child parent office for emergency situations and organizes summer camps.
While it is clear that not all companies have the necessary resources to provide similar services, everyone can do something to promote diversity and inclusion, Knoess insisted. "Be flexible with working hours. Allow people to work from home. That could do so much to help parents," he said.
"At a Confindustria [the Italian employers' federation] conference in Padua, managers once asked me what they should do. Make the first step, I said. Be welcoming, and start opening up slowly but surely. But whatever you do, do it from the heart. If you have a fitness center, make sure the managers go. That way the workers will get enthusiastic, too."
Ultimately, Puma still has progress to make. "We know we can do better. This is a constant learning process, so we will continue educating one another. In the end, that will help us understand where and how we need to improve," Knoess stressed.
Ranking of top European fashion, footwear, sportswear companies for diversity, inclusion
In November, the Financial Times released a list of the 850 highest-achieving companies in its second annual Diversity Leaders ranking. It was compiled from surveys conducted by Statista of 100,000 employees working for 15,000 companies headquartered in Europe. The following is a excerpt of the ranking including all companies classified under the clothing and accessories, sports equipment and a few other segments. The number reflects a company's overall rank.
FT's top European fashion, footwear,
sportswear companies
for diversity, inclusion
Rank
Company
5
Hermès - France
6
Giorgio Armani - Italy
36
Deichmann - Germany
57
Prada Group - Italy
97
Hugo Boss - Germany
104
Puma - Germany
111
Benetton Group - Italy
112
Rolex - Switzerland
113
John Lewis Partnership - U.K.
120
Marks & Spencer - U.K.
123
Ralph Lauren - Switzerland
148
Decathlon - France
156
Christian Dior - France
161
Louis Vuitton - France
163
Jack Wolfskin - Germany
234
TK Maxx - U.K.
235
Primark - U.K.
288
Amazon - U.K.
289
Chanel - U.K./France
321
Desigual - Spain
339
Next - U.K.
349
Adidas - Germany
354
Asics - Netherlands
366
Zalando - Germany
368
About You - Germany
374
LPP - Poland
396
Nike - Netherlands
414
OVS - Italy
426
New Look - U.K.
454
Intersport - Switzerland
467
Big Start - Poland
472
Clarks - U.K.
476
Asos - U.K.
579
Gap - U.K.
580
Debenhams - U.K.
617
Monoprix - France
631
H&M Hennes & Mauritz - Sweden
647
New Yorker - Germany
648
Lacoste - France
702
Claire's - U.K.
711
Calzedonia - Italy
771
Ernsting's Family - Germany
805
Levi Strauss & Co. - Belgium
838
JD Sports Fashion - U.K.
Photo: Priscilla Du Preez, Unsplash