The Covid-19 pandemic has truly changed the rules of the fashion retail game, accelerating some trends that were already developing and leading to completely new scenarios that are testing the strengths of even the strongest brands. Digitilization is a major force in this scenario, but it is not growing fastest where you might imagine.
In an online webinar hosted June 23 by Italy's Altagamma association of luxury brands, various experts offered their insights on what the post-Covid-19 retail world is shaping up to look like.
Digitalization is an accelerating trend, not just for sales, but also on how to communicate with and manage clients. Although sales are increasingly moving online, "clienteling," or the use of technology, such as machine learning and data, to establish long-term relationships with clients, is growing even faster. It is what consumers, who are increasingly looking for a seamless online-offline shopping experience, are expecting. According to a Boston Consulting Group (BCG) research presented at the conference, some 46 percent of those surveyed say they are looking forward to more personalized, digital clienteling in the future.
Also underway is a "shift from sustainability to responsibility." What was previously a focus on sustainability, seen almost exclusively in terms of environmental impact, sourcing and labor issues are now being absorbed into the broader corporate social responsibility pot. Consumers and investors, too, are seen becoming more attentive to how the companies they buy from behave also in terms of how, and who, they hire and their broader social impact. Of course, environmental impacts still rank importantly in consumers' minds with the fashion and luxury business model largely seen as being negative for the environment.
In part to answer this negative perception, new business models are emerging. For example, the second-hand market is booming. Representing some 8 percent, or approximately $25 billion, of the luxury goods sector, sales in second-hand goods have been increasing at four times the rate of new goods sales. And 70 percent of luxury buyers surveyed said they expect the brands themselves to take control of this market, rather than leaving it in the hands of third party retailers.
Another key trend is emerging, which Filippo Bianchi, partner and managing director at BCG, referred to as the polarization of luxury values between the West and China. While what he called "extro values," namely a focus on extravagance and brand visibility as a way to express identity, are on the rise in China, they are decreasing in Western countries. Up until 2019, all markets were seeing "extro" values on the rise, but as of 2019 the contrast is clear, as are implications for luxury brands. In the West, consumers are focusing on values like craftsmanship and heritage, but not in the East. If for Western consumers, "sobriety is the way," while in the East "extra is cool," as Bianchi put it.
Looking more closely at trends in luxury consumer behaviour, Luca Pianon, a senior partner and managing director at BCG, pointed out that the crisis has highlighted the increasing importance of "experiential luxury" - luxury travel and tourism, for example - the fastest growing category of luxury spending, accounting for nearly two-thirds of total personal luxury spending in 2019, according to the survey. While this category has taken a significant hit from the coronavirus, it is expected to bounce back to its 2019 levels within a couple of years, faster than spending on other personal luxury goods categories. This is not a coincidence. According to the BCG research, among consumers who are switching to more experiential luxury, the key reasons are that their wardrobes are already full and that they have become bored with collecting personal goods. They get more satisfaction from a luxury experience, find experiences more exclusive and are happy to spend time with family and friends. Trends that are broadly shared across the three main markets for luxury goods: China, Europe and the United States.
Last but not least, many brands will have to deal with excess spring/summer 2020 stock, following the Covid-19 emergency. While many may be tempted to use a tried-and-tested strategy, cutting prices, to push inventory, Luca Solca, senior research analyst for luxury goods at Bernstein, warned against this. Solca stressed that in a context of declining store traffic, cutting prices would lead to the creation of a "doom loop," adding to the existing problem of a decreasing footfall, the one of sales per square meter.
The BCG research, which is based on the surveys of some 12,000 luxury consumers in 10 major markets, showed that casualwear, driven by T-shirts, sportswear and sneakers, is expected to rebound fastest from the Covid-19 crisis. While formalwear, including shoes, accessories and sunglasses, are seen as lagging. It forecast e-commerce will represent some 20 percent of revenues in the luxury industry in 2022, up from 12 percent in 2019.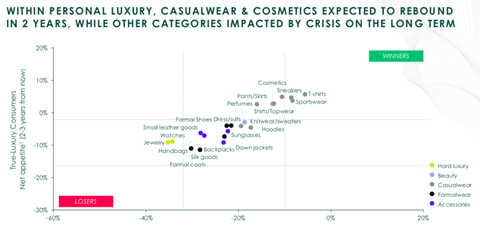 Source: © BCG.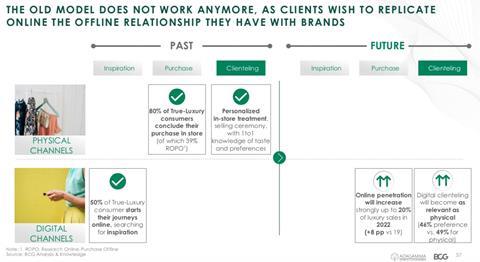 Source: © BCG.