Award-winning footwear design and manufacturing firm Gupta HC Overseas reveals why its quality over quantity ethos has been an integral part of its business practice and how this has led it to being one of the most innovative companies in the sector.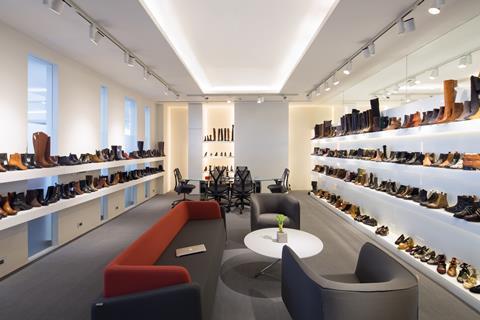 "Buy cheap, buy twice" may sound like a well-worn phrase from yesteryear that your grandmother would use, but in the past few years as the focus on the impact of consumerism on our planet has become mainstream, longevity of products matters, with "buy less, buy better" becoming the mantra of many – from the media and politicians, to community groups and businesses.
When Gupta HC Overseas – a leading manufacturer of high fashion leather women's footwear exporting to customers all over the world from its India-based plants – embarked on a sustainability mission seven years ago, it quickly realised that a pledge made at the very beginning of the company's life in 1987 meant it was already a good part of the way there.
–> Want to get in touch with Gupta Overseas firsthand? Visit Gupta Overseas
Gupta's founders pledge: Quality over quantity
When many other manufacturers were riding high from an era of mass-consumption, Gupta's founders' pledge was to always put quality ahead of quantity in all aspects of the business: from the manufacturing side, where designs, materials and finishings needed to be the best durable quality, tested for guarantee; from the employee point of view, who needed to be trained well to have skills required of their craftsmanship; and the same principle was applied to customer relationships, which has meant Gupta's reputation for 360-degree business excellence has always been part of its USP.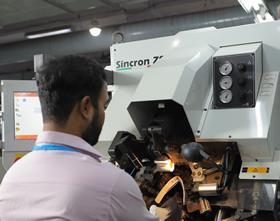 "We started out very modestly, making just 50 pairs of shoes a day. But from the outset we knew we could grow into something remarkable," says Abhay Gupta. "Shoemaking is a traditional skill and a well-respected industry in India, with a history dating back more than 500 years to the Mughal empire. In fact our name, Gupta, comes from an ancient empire that was considered a golden age.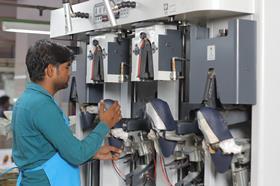 "Today we produce 9,500 pairs a day, so we have come a long way. But, of course, it's not the number we produce that's important but the what and how we manufacture. We set out to take our tradition of shoemaking into the technology age, while maintaining the very best of design. So we start with design from our Italian, Spanish and French studios and end in one of our ultra modern manufacturing facilities."
State-of-the-art facilities
With its own testing lab, an insole and sole manufacturing unit and three plants, Gupta HC Overseas' facilities and capabilities include:
Injection moulding plant with capacity for double colour and recycled material injection
Auto cutting machines for high speed, die-less and accurate cutting of materials with precise nesting to reduce wastage
Auto stitching machines for fast, accurate, uniform and consistent stitching with capabilities for complex stitches
Testing lab for continuous impact and fatigue of heels, abrasion and bending of soles, and material perspirometer (colour fastness) and tensile testing
Prototyping software for digitally visualising the aesthetics of the products at a greater pace which reduces the number of physical samples required
3D scanner and printer for rapid prototyping
Journey to sustainability
It was the same drive to innovate that the company set out with that has led Gupta on its sustainability journey. Growing awareness of the environmental impact that leather production in particular can have, motivated the leadership team to go further and faster than the current global leaders are willing to do.
"We are very motivated by the idea that we all need to take responsibility and make changes," says Gupta. " As the environmentalist Robert Swan says: "The greatest threat to our planet is the belief that someone else will save it."
The global fashion industry contributes between 3% and 10% of the world's total greenhouse gas emissions, according to figures released by the United Nations in 2019. This large footprint is down to long supply chains and energy-intensive production, with the industry cited as consuming more energy than the aviation and shipping industries combined.
Gupta is aware that raw materials management and fabric production is where a large portion of the environmental impact sits. In response, the GOLife initiative was launched to scrutinise every part of the business to see where "small steps can make up a big journey".
One of the most noticeable features for anyone who works in or lives close by the plants is the 350kW solar power plant installed on the roofs – the sheer scale of it is unmissable. A smaller but equally important change is the car pooling scheme.
The 'belt and braces' overhaul of the business has included: working with a number of governing bodies to achieve sustainability accreditation; an overhaul of raw materials and packaging to ensure as much as possible is made from recycled components and lower-impact alternatives such as chrome-free leather; and implementing a chemical management system to ensure safe and eco-friendly chemicals in the supply-chain.
Gupta HC Overseas' accreditations and partnerships
Higg Index – a suite of tools developed by the Sustainable Apparel Coalition, that enables accurate measurement of a company's or product's sustainability performance
Leather Working Group – an independent group of tanneries and footwear brands that has established a protocol to assess the environmental performance of tanneries, and to promote sustainable and appropriate environmental practices within the leather industry
Global Recycled Standard – full product standard that sets requirements for third-party certification of recycled content, chain of custody, social and environmental practices and chemical restrictions
Forest Stewardship Council – an international non-profit organisation dedicated to promoting responsible forestry
The Better Cotton Initiative – a sustainability programme aiming to make cotton manufacturing better for the people who produce it and better for the environment it grows in
Tech-led green revolution
"So much of what we are doing to be more sustainable makes sense on other levels, too," says Gupta. "For example, our auto cutting machine is so accurate it reduces waste, great environmentally but also economically, and it's super-fast so better for lead times. We have high-resolution video conferencing, which is so good we can fully demonstrate our materials down to leather texture. This has allowed us to reduce the number of flights we need to take and extend our customer reach. It was invaluable during Covid, too, to be able to continue serving our clients well.
"We also looked at what we could do with our leather scraps and our R&D teams have actually come up with a new product – eco-friendly tiles. With the use of texture and embossing these provide a fresh new look, a good alternative to ceramic or stone."
"It really matters to us – and by us, I mean every single person at Gupta as this runs through our entire company culture – that the legacy we leave is a business proud of its roots, its history, its journey. Development should be about what you are passing on to the next generation."
More information about Gupta Overseas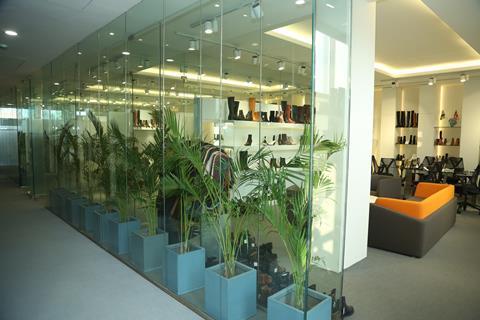 Innovation rewarded
Pride is not just reserved for future generations: the company has been the recipient of many awards over the years, including the coveted Niryat Shree Award for outstanding export performance twice, gold and bronze, presented by the President of India, and also the FIEO Export Excellence Award twice, gold and silver.
Design and innovation accolades have been aplenty, too. In fact, in its 35 years, Gupta has been merited with 28.
Design is as important to the company as patrimony. Just as it pioneered in the technology and sustainability spheres, equally it is seen as cutting-edge in the design arena and highly regarded for its products, with customers including Geox, Görtz, Bocage (France), About U, Zalando, H&M.
With the relaxing of Covid restrictions, Gupta was back at Micam Milano in March, a benchmark event for dealers from all over the world. This is where Gupta showcases the very latest innovations from its Enroute collections to thousands of potential customers.
Looking to the future, there is still much the company wants to achieve, and its R&D teams are involved in a number of projects – but there will always be the guarantee that any new developments will be about sustainability first and foremost.
Supporting retailers' ESG plans
And this is good news for its customers given that there is an expectation for retailers to publish environmental, social and governance plans. With transparency in supply chain impact being paramount, Gupta's credentials go a long way to supporting retailers in this task.
"If you think about it, environmental sustainability is the only way forward for any business, says Gupta. " If you want to be a viable business that can sustain itself, first you have to make sure we can sustain the planet. The two go hand in hand, or in our case, in step with each other. And I think what we have proved in our journey is that sustainability at your heart is also good for the whole body of your business."
–> For more information visit Gupta Overseas