ISPO Munich has put together an impressive line-up of speakers for the upcoming trade show from Nov. 28–30 at the Munich Exhibition Centre. This year, you will find not only well-known experts from within the sporting goods industry but also true leaders, athletes and even icons on the program. We present our top pick of 7 speakers you shouldn't miss.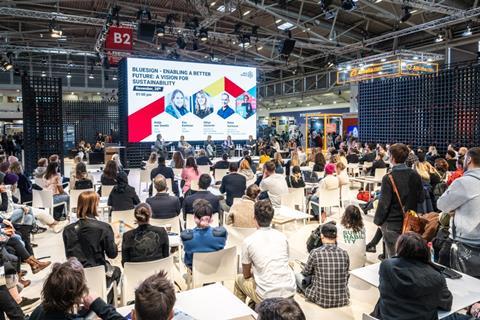 1. Colin Kaepernick: "Impact sports: How athletes are changing the world"
The American football player Colin Kaepernick will talk about the transformative power of athletes in today's sports landscape. As a former quarterback for the San Francisco 49ers, Kaepernick gained wider fame in the 2016/17 season for "taking the knee" and kneeling during the national anthem before every game as a way of protesting against racism. This was not without consequences. Kaepernick has been unable to find an NFL team to sign him since. Instead, Nike launched a major advertising campaign with Kaepernick in 2018: "Believe in something even if it means sacrificing everything."
Meet Colin Kaepernick on ISPO Day 1 - Tuesday, Nov. 28, at 5:30 pm (CET) Main Stage
2. Yusra Mardini: "Resilience and sport"
Yusra Mardini is a swimmer from Syria. At ISPO Munich she will show how sport can provide hope even in the most difficult circumstances. In 2015, Yusra Mardini fled Syria with her sister to escape the civil war. In 2016, she competed for the Refugee Olympic Athletes team at the Summer Olympics. Today, she campaigns for refugees and their rights and is an ambassador for the UNHCR (United Nations High Commissioner for Refugees).
Meet Yusra Mardini on ISPO Day 1 - Tuesday, Nov. 28, at 10:00 am (CET) Main Stage
3. Foster Huntington: "From Instagram, van life, stop motion and beyond, Foster Huntington's take on content"
The van life influencer Foster Huntington has created a unique video for ISPO Munich and will inspire his audience to find happiness in simplicity; encouraging them to value authenticity over material possessions in a world often dominated by polished social media images.
Meet Foster Huntington on ISPO Day 1 - Tuesday, Nov. 28, at 2:30 pm (CET) Main Stage
4. Jonas Deichmann: "The limit is just me"
The well-known German adventurer and world record holder Jonas Deichmann will explain how he became the first person to circumnavigate the globe in a triathlon. Deichmann comes to ISPO Munich fresh from completing his "Transamerica twice adventure" a mere few weeks ago. In this keynote, Deichmann will share more on his latest endurance feats.
Meet Jonas Deichmann on ISPO Day 1 - Tuesday, Nov. 28, at 3:30 pm (CET) Main Stage
5. Gordon Herbert: "Building Team Germany to become world champions"
Meet the Canadian-born coach Gordon Herbert with the most impressive winning streak in German basketball history. Gordon Herbert led the team that sensationally became the first German winners of the basketball World Cup in 2023. Herbert is convinced success is all about creating the right mindset and bringing the right people together.
Meet Gordon Herbert on ISPO Day 2 - Wednesday, Nov. 29, at 4:00 pm (CET) Main Stage
6. Thomas Tuchel speaks about "New Perspectives on Sport"
Thomas Tuchel is currently the coach of FC Bayern Munich. In his speech, Tuchel will not only share some of the secrets of his success but also share valuable insights into innovative ways of thinking. This topic will support ISPO Munich's 2023 theme, "New Perspectives on Sport."
Meet Thomas Tuchel on ISPO Day 3 - Thursday, Nov. 30, at 3:00 pm (CET) Main Stage
7. Nicola Winter: "With courage, empathy, discipline, passion and a modicum of luck, we can make it anywhere – even to the stars"
This is not your ordinary ISPO talk. Experience an inspiring journey into the world of femininity, discipline and adventure. Nicola Winter, an experienced fighter pilot, ESA reserve astronaut and aerospace engineer, will take you into the fascinating world of flight and space travel. Discover how women can set standards in these fields and at the same time successfully make their way as mothers and entrepreneurs.
Meet Nicola Winter on ISPO Day 3 - Thursday, Nov. 30 pm (CET) Pink Stage