With the new GORE-TEX ONE Portal, the GORE-TEX brand is taking collaboration with retailers and brand partners to the next level. Retailers and brand partners can now access a wide range of content and information on the brand, technologies and products via the online portal at any time. Always up-to-date, always exactly when needed, and always in the same place.
Previously, acquiring the GORE-TEX brand information was a manual process, requiring an Associate to manage each unique request. Now, users can simply complete a one-time registration with the GORE-TEX ONE portal and access what they need, when they need it. For retailers and licensees, this ensures it's an easy, efficient, and fast process. Additionally, GORE-TEX ONE offers ten different languages to meet the exact needs of a variety of countries.
The portal was developed based on the feedback and experience the GORE-TEX brand has gained with its customers, retailers and other industry partners over the years.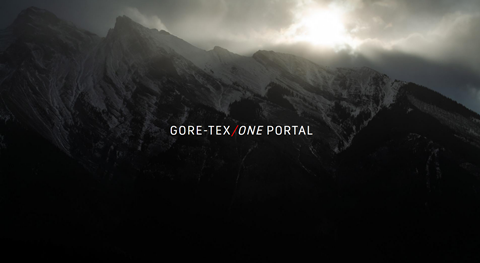 GORE-TEX ONE for retailers - Accessing everything from assets to eLearning
Given the extensive range of GORE-TEX product technologies, it is not always easy to keep track of everything. In particular, new sales staff need to be continuously trained and familiarized with the new technologies. Advisory skills and detailed technical knowledge are more important than ever for today's retailers.
With excellent e-learning modules in various languages, GORE-TEX ONE helps to close the knowledge gaps in a comprehensible way and provides both a quick overview of individual topics and, if required, deeper insights into the technologies. Training courses can be completed online or are available for download as training material. As any number of user accounts can be created for each retailer, this ensures it's open to all who need it.
Not only are GORE-TEX product technologies evolving, but so is the way they are communicated. GORE-TEX ONE only ever contains up-to-date materials and information. GORE-TEX ONE enables consistent brand storytelling, owing to its comprehensive guidelines and easily accessible asset bank, which includes logos, videos, graphics and images. These ready-to-use tools can be downloaded with a single click and used immediately for marketing purposes.
GORE-TEX ONE goes far beyond just product technologies. With a longstanding commitment to sustainability, the GORE-TEX brand also provides useful and relevant education and resources regarding GORE-TEX product care.
Video:
Introducing The GORE-TEX/ONE Marketing Portal - The Online Destination for Marketing Collaboration
GORE-TEX ONE for brand partners - from material selection to brand guidelines
For brand partners, GORE-TEX ONE also offers the right resources and information in one place. In the Product Portal, GORE-TEX ONE helps brand partners make the right material selection for their products and collections.
For essential questions such as "Which laminate best suits a specific requirement", or "What special design and construction criteria do garments have to meet in order to carry the GORE-TEX products label?" GORE-TEX ONE has the answer. With a series of high-quality requirements for GORE-TEX brand partners, the portal allows permanent access to such information. From hangtags to on-product brand guidelines, it's a one-stop solution to their needs.
The previously mentioned GORE-TEX brand guidelines are just as useful for brand partners. They provide accurate information with which brands can integrate GORE-TEX products within their own communications.
Coupled with this, brand partners can find precise, relevant information on GORE-TEX brand's responsible performance initiatives, as sustainability becomes an increasingly defining topic.
The GORE-TEX ONE portal closes the digital information gap between all brand partners and the GORE-TEX brand. Those who register and create an account can do the following:
- Download logos, photos and videos to add to their own marketing materials
- Read brand guidelines on how to use the GORE-TEX brand for their own communications
- Train teams with GORE-TEX expertise, download training materials and visit the interactive training platform
- Stay up to date and never miss relevant news