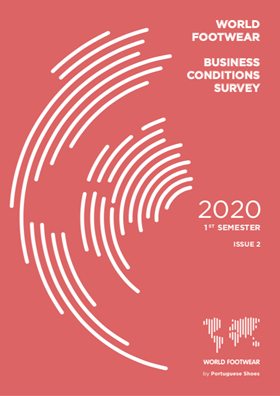 WORLD FOOTWEAR BUSINESS CONDITIONS SURVEY - 1st Semester 2020
In 2019 the World Footwear has created the World Footwear' experts panel and is now conducting a Business Conditions Survey every semester.
The objective of the World Footwear Experts Panel Survey is to collect information regarding the current business conditions within the worldwide footwear markets and then to redistribute such information in a way it will provide an accurate overview of the situation of the global footwear industry.
The second edition of this online survey was conducted during the month of March 2020. World Footwear obtained 129 valid answers, 41% coming from Europe, 31% from Asia, 16% from North America and the remainder from other continents. Almost 40% of the respondents are involved in footwear manufacturing (manufacturers), 17% in footwear trade and distribution (traders) and 43% in other footwear-related activities such as trade associations, consultancy, journalism, etc. (others).
Click here to download the report on World Footwear's website